We'll profile each finalist this week, beginning with All American Marine today, PACCAR on Wednesday, and Promus Energy on Friday.
All American Marine
Builder of the Sea Change, North America's first and only commercial vessel powered wholly by hydrogen fuel cells producing zero emissions, All American Marine aims to create a sea change in maritime carbon emissions. We wrote about the promise of hydrogen in the two most recent editions of this newsletter (HERE and HERE). All American Marine believes that hydrogen fuel cell technology is likely to leapfrog electric and hybrid for clean ship power on the seas, as it packs the energy needed by vessel operators to achieve much more than batteries alone can do.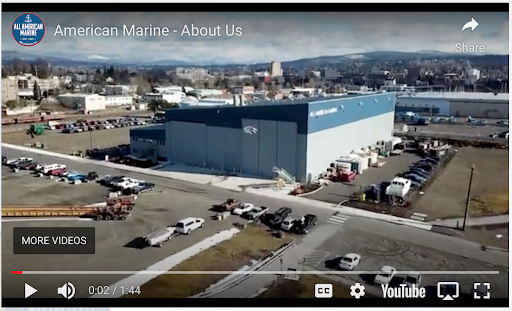 Speaking of clean energy, All American Marine brings their innovative vessel design and manufacturing capabilities to the growing wind farm research & support market.

All American Marine's Bronson Lamb says, "From local water taxis in the Puget Sound and San Juan Islands, to passenger ferries and research vessels around the world, this technology provides a clean, quiet, and effective alternative to keep our air and waterways clean for generations to come."
To learn more about All American Marine, go to AllAmericanMarine.com.
Thanks to the entrepreneurial innovation of All American Marine, PACCAR, Promus Energy and all our nominees, the future of our economy and our climate is brighter.